If I didn't pee on my pants because of all the stress I had in the few weeks (and hours) leading to Lesotho Fashion Week, I never will! Let me let you in on what happened…
As you may know, I recently participated in the inaugural Lesotho Fashion Week as one of the chosen designers (together with other local Lesotho designers) to be major participants in this initiative that saw us, by virtue of our work in design- cementing Lesotho's commitment to use culture as a tool to build and unite the nation. ⠀⠀⠀⠀⠀⠀⠀
⠀⠀
Amidst exam pressures and assignment deadlines I had to prepare with as good an effort as I possibly could for the show. I had a few exams just before the show and I wrote the last one on the day I left. My entourage and I (read: my mother and my friend) traveled through the night and reached our destination in Maseru in the wee hours of the morning- tired, hungry and almost dazed out.
On the morning of the show, while dolled up and excited about the exciting events that would take place within the next two hours or so- we were treated to an minor accident on our way to the venue in Thaba Bosiu Cultural Village. Of course it was the other guy's fault- it always is, right? His mini cab came screeching in on us, jumping the white line and brushing itself against our driver's door which was just minding its business and really had nothing to do with any of this. Oh, the horror!
Now I didn't see any of these things happen because I was busy on my phone (yes, typical millennial – I know, don't judge me!) but it must have happened this way because my mother saw the whole thing happen- kind of- she almost totally remembers sort of seeing something like that happen…a little bit- maybe…listen, that's besides the point- she saw what she saw and that's the story I'm sticking to! Lol
Anyway, after that we then had to stop to speak to the driver who hit us (and whose story was much different from our story) and we were soon joined in by passerby men who wanted to know what was going on and why these nicely dressed women were fighting with this innocent looking man.
They kept referring to us as People From Botswana because of our language and how different our car registration was from theirs. I didn't pull out my World Map to teach them a bit of Geography (I defeated my urges this time) but despite all the frustration, we finally (and grumpily) left the scene to arrive only a little late to the fashion show venue.
Good Lord, if I didn't lose my cool that day, I never will.
So to cut this long story short, I had a fabulous solo show even if I have to say so myself!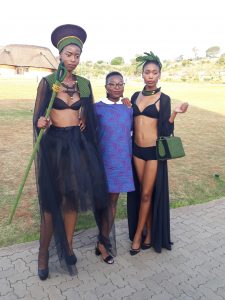 I was glad to be part of a body of work that teaches, showcases talent, values the norms of Basotho and diverse nationalities found in Lesotho, in order to promote cohesiveness, unity growth and tourism within the country as well as to champion unity with other nations like my home country which I was representing.
Solo Show: