I was sitting quietly, minding my business at a book festival when the email icon popped onto my screen, the small LED light at the corner of my cracked Samsung flashed yellow- demanding me to open it, open it, OPEN IT NOW! It's always the case with these things right? Technology. Unless you set it up correctly- your cellphone won't let you rest- it feels like it's always in a rush, trying to make everything feel urgent. First it's the sound tone when the email comes in, then it's the jolting vibration against the hard surface it's resting on, and then the icon pops up on your screen and as if to really make a point, the LED light goes on and off and on and off until you give it the attention it wants. And so after a while I did!
"Invitation to Showcase at Paris Fashion Week" was neatly spread on the subject line- large letters, bold and neatly aligned within the top perimeter of my screen- giving it an official aura that made it almost intimidating. I chuckled and then put it away and went about my day.
At some point my mind raced back- I found myself asking, in the most comical way you could imagine: "What do you mean Invitation? What do you mean Showcase? What do you mean PARIS FASHION WEEK??? Who? Me?" *Mouth agape, eyes bulged out, pupils dilated* This was an entire day later from when I had received the mail, I know- I'm terrible with these things. I then quickly sent a message to a few people including my family WhatsApp group (yes, I belong to one of those families that have a WhatsApp group, haha).
Anyway, when I was calm enough to read the mail well, I found that following extensive review of the Lesotho Fashion Week's (LSFW) showcasing designer's catalogues, event footage (both photography and videography) by LSFW's international partners: Paris based fashion industry experts, my collection won and was found to be best suitable for the European market.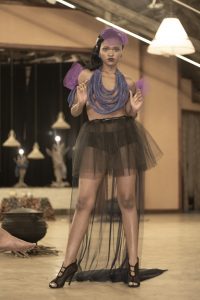 What this means is that I got the invitation to take my collection from Lesotho Fashion Week 2018's catwalk straight to Paris Fashion Week 2019. The designer's trip to Paris is followed by a red carpet show and tell-all session hosted by Alliance Française de Maseru, aimed at transferring the knowledge gained- all this comes together with a six months residency at a French Boutique called iTU Espace Design.
All this excitement however comes with the stress of trying to secure a sponsor that will help me pay for all the costs involved in time for the show set to take place early in 2019. If you would like to help by making a donation or if you know of any organisation or any contact I can use, please let me know.
Contact me on 073 070 8048
Till next time…
Fentse