Do you know about our Tall Lady Earrings? The inspiration comes from the Herero women of Namibia. The earring mirrors the soft silhouette of the Herero ankle length frock, shaped in the form of a crinoline. The dress is Victorian styled, speaking of the rich history of the Herero people and of Namibia as a country.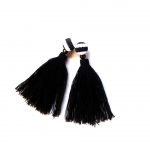 On my recent trip to Namibia I met a Herero woman clad in her full regalia- she wore her voluminous dress and a head gear that is said to represent the horns of a cow- signifying wealth and health. She had promised to teach us how to tie her head wrap but we unfortunately got caught up in other things and we were unable to learn.
For me, travel is one of the best teachers I could ever ask for. I love the feeling of new places; new smells, new sights, new people and new experiences. I had a lot of fun there and I will be telling you more about it soon.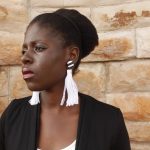 The Tall Lady earrings form part of the Regal Collection and you can have a look at them here. They come in black and white but they can be made in other prints and colours.