My head is spinning out of place, it's crazy! In between managing Marabou Essentials, attending classes and workshops, gathering inspiration, doing shoots, creating new pieces, entertaining my three year old nephew and trying to manage a good amount of sleep in between, I don't think I give myself enough time to write! But I'm here now, and I am not here empty handed!
Check me out:
Okay, so we've recently collaborated with an incredible shoe brand called Aderonbi Culture and we are bringing some goodies made from selected prints.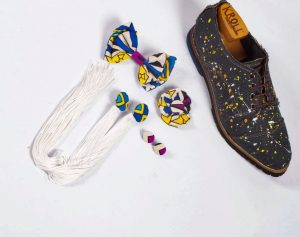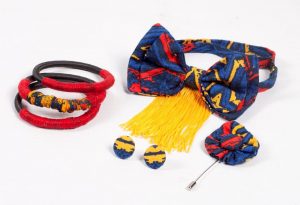 The shoes come from Aderonbi Culture and we provide the accessories.
Spaghetti ear studs = R250
Bow Tie (with removable tassels) = R195
Lapel pin / Brooch = R60
Studs = R50 (small), R55 (medium), R60 (large)
3 Bangle set = R150
SAVE BY GETTING A GIFT PACK
One gift pack consists of a Bow Tie plus any three items above for
R400
Sneakers = R850
Shoes = R1000
Matching Neckpiece = R420
The accessories are readily available from Marabou Essentials and the shoes are only available until stocks last (if we run out of shoes, we will be happy to order more for you if you can wait).
I'm happy to take your orders, suggestions and whatever other thing you want to talk to me about…it can be anything, lol.
Just send a mail, I'll be happy to hear from you!
Remember you can also connect with us via our WhatsApp number (073 070 8048) and also don't forget to like us on Facebook and to follow us on Instagram.
Till next time…
Fentse Mokale